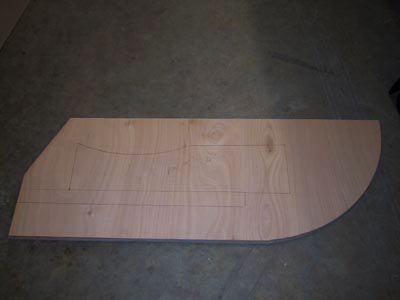 Shaped plywood
The rudder blank is 5/8" marine ply, laminated to the appropriate thickness.
"One piece (the one in the picture) was cut for the shaft and the section for the support was routed out to a depth of 7/16". This was to center the piece on the shaft. The cutout in the aft edge of the shape means nothing – it reflects the shape of a piece of s/s plate obtained for free.
"The void left on top was filled in with scrap wood 1/8" thick and epoxied when we started to assemble the rudder. Two pieces just had the shaft opening cut. When assembled, these 3 pieces were the same thickness as the shaft, so the last two pieces formed the outer cover."