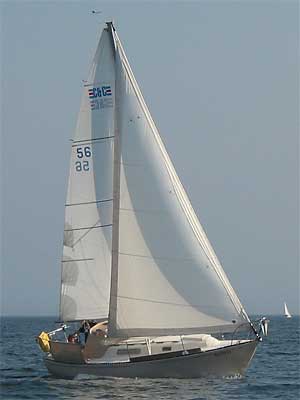 1-2 Many
1971 MK 1 Hull 56
Shearwater Yacht Club, Shearwater, Nova Scotia, [Map]

Sailed by Gary Rowe and Sue Dooley,
Halifax, NS
E-mail


"We have now been sailing her for 2 years and are having a great time. We have sailed mainly in and around Halifax, but have spent a few weeks living aboard, cruising the South Shore of Nova Scotia. Still no desire to race her.
"Last year we did have to swap the old Atomic 4 with a Yanmar 3YM30, and now cruise worry-free. The Yanmar has proven to be a great realible motor. As well, we recovered all the cusions, and now have the inside looking much newer than her 36 years.
"This year, we swapped all the lights with LED, and made a dodger and lee curtains, making cruising much more enjoyable. Due to the length of her boom, we were not able to have a full enclosure, but did make an awning, tied to the split back stay. Not perfect, but was very useful in the hot sun or drizzle."